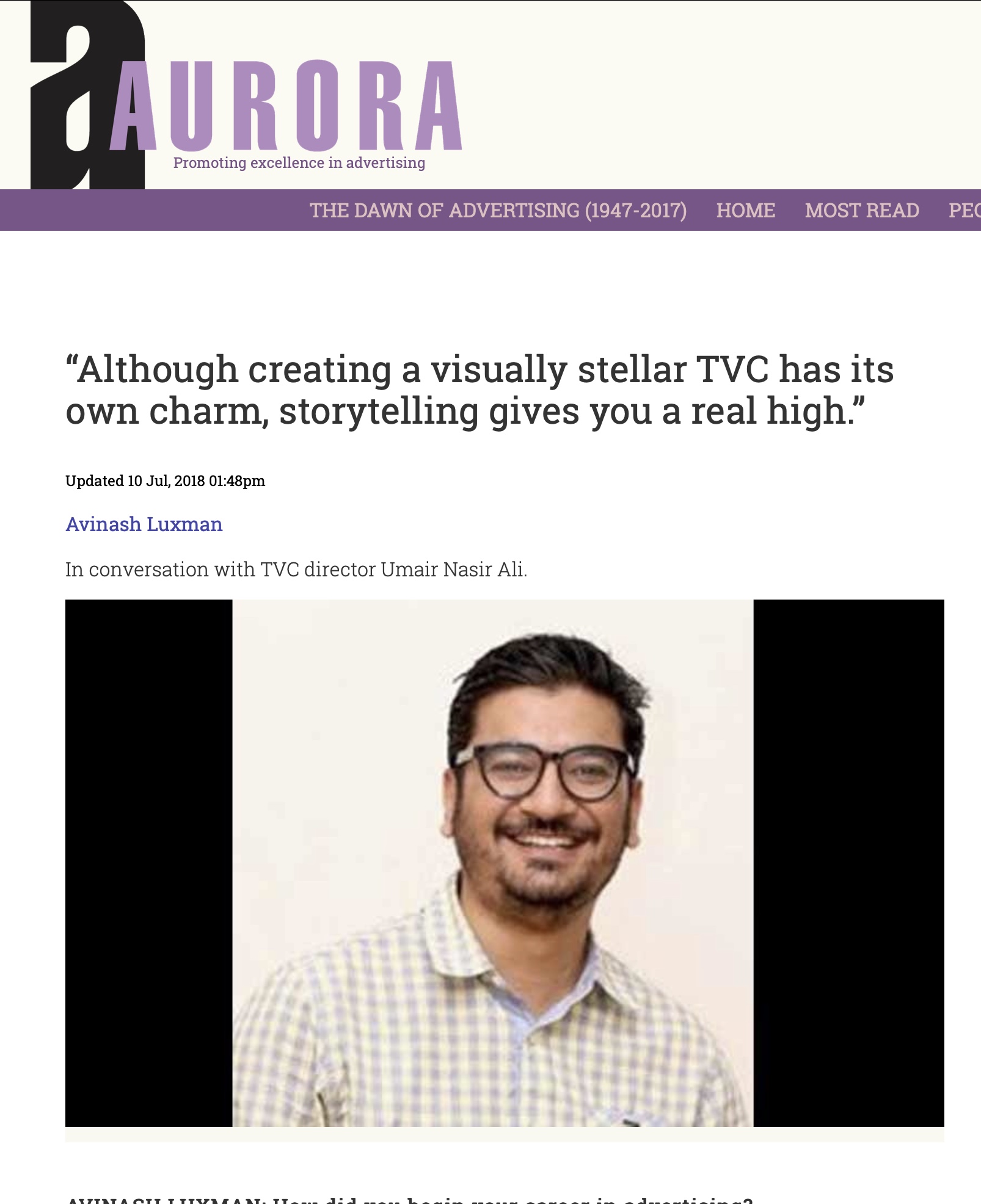 08 Jul

"Although creating a visually stellar TVC has its own charm, storytelling gives you a real high." In conversation with Aurora Magazine

https://aurora.dawn.com/news/1143059

AVINASH LUXMAN: How did you begin your career in advertising?
UMAIR NASIR ALI: My first project was the launch TVC for Silk Bank. It was shot in northern Pakistan nearly 10 years ago and I worked as an assistant director with Jami for this TVC. After that, I assistant directed several commercials, and also directed a short film and a music video. In 2011, I directed my first TVC; the client was Lifebuoy, and the TVC featured Wasim Akram.

AL: How do you think advertising has changed over the years?
UNA: When I began working in advertising, narrative-based TVCs were more or less unheard of. The focus was more on aesthetics, be it lighting, frames or art direction. Although creating a visually stellar TVC has its own charm, storytelling gives you a real high. To my delight, realistic, narrative-based TVCs are now becoming a trend.
AL: Would you consider Bank Alfalah's Rising Talent campaign to be one of these?
UNA: Yes, and the series is very close to my heart. The first TVC of the campaign featured Adnan Sarwar, the director of Shah. I was inspired by the director's passion and conviction which enabled him to make Shah a reality, and the TVC was a great success. The Rising Talent campaign consisted of two more TVCs. The first was based on cricketer Anwar Ali's journey to success; he used to work at a small factory which made socks before he became part of the Pakistan team. My job was to bring his struggle to life, and it went viral on social media. The second one was called 'Carnama' and centred on five college students who created Pakistan's first formula electric car. The best part about this series was the fact that it dealt with real people and their dreams.
AL: What were the challenges when it came to directing the Blue Band TVC Achayi Barhnay Do which featured a handicapped boy?
UNA: It was a beautiful concept with great insight, and a joint venture between MullenLowe Pakistan and Mullenlowe India for Unilever. I got the job because they liked the treatment I suggested. The concept was so powerful that it clicked with me immediately. It was a sensitive topic; and the biggest challenge was to direct the film in a manner that the viewer didn't think of the boy as a "bechara".
AL: What is the most challenging campaign that you have directed so far?
UNA: There have been a couple; Bank Alfalah's Carnama is one of them but a more recent one is a series of TVCs for USAID's campaign "Seeing is believing". The TVCs were based on three real beneficiaries of USAID: a truck driver in Quetta, a farmer in DI Khan and a homemaker from a village near Bahawalpur. The first challenge was to identify the people we would focus on, and then shoot the TVCs in a realistic manner. This was a difficult task because the people who were featured in the TVCs were not actors; they were real people and were not very comfortable in front of the camera.
AL: Do you plan to make a feature film in the future?
UNA: Yes, I have been working on two scripts for the last year and a half; one is almost ready and we are in talks with the cast and working on the budgeting. Although I'm excited about it, I am in no rush to make it to the big screen. My aim is to enjoy the whole process and create something I'm 100% confident about.
AL: Which ad filmmakers do you admire?
UNA: Jami, Asad-ul-Haq, Zaheeruddin Ahmed and a few other veterans who have strengthened Pakistani TVC industry. Shoojit Sircar from India is a favourite due to the versatility of his work. He treats each film in an original manner, instead of having a signature style, and that is how I believe things should be.
AL: What advice you want to give to the new generation of filmmakers?
UNA: I have been a coordinator at the Visual Studies Department at Karachi University for the last five years and have a close-knit relationship with students as a result. I seriously feel that institutes and students need to focus on content more than technique. Content will take you places while technology will keep on getting obsolete. And the only way to create good content is by reading.