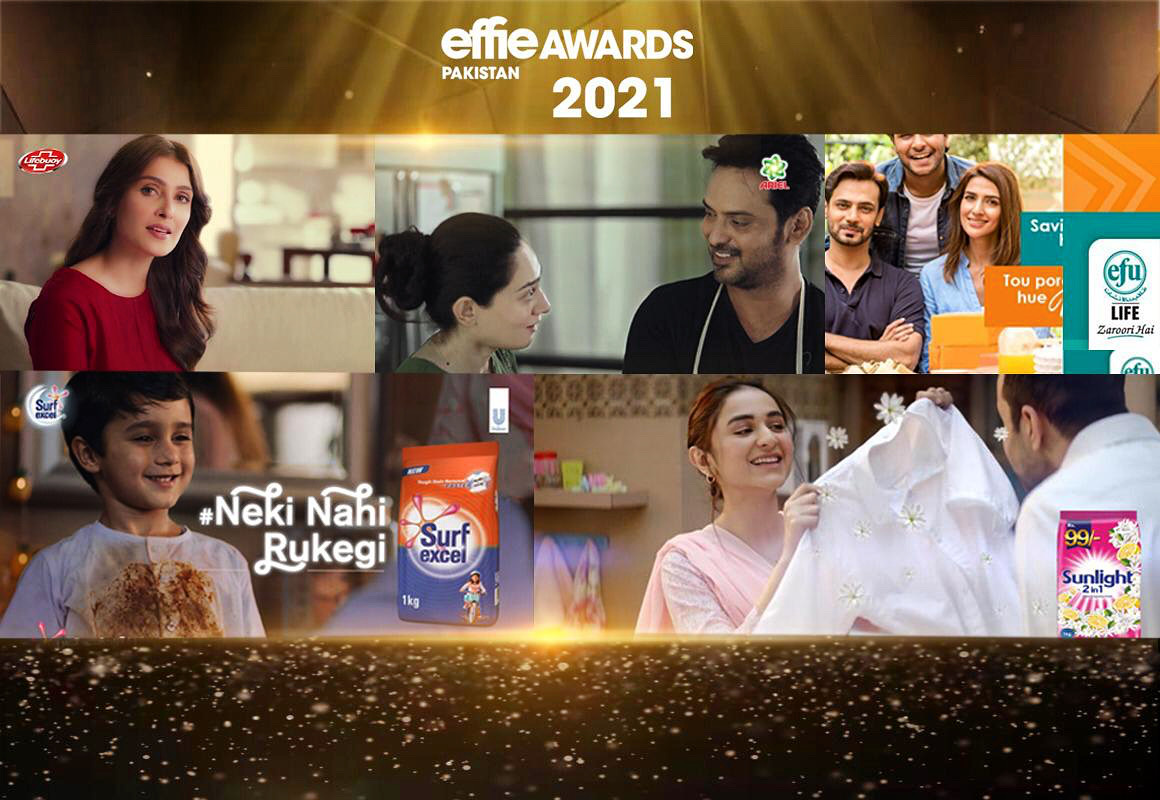 14 Jul

8 Effie Awards on 5 Campaigns Directed by Umair Nasir Ali
5 campaigns that Umair Nasir Ali Directed won "8" Effies this year. The year 2020 was definitely the most tough and uncertain of times where only the gut and heart led us ahead and made us stronger. Hoping that the times ahead give more opportunities to work from the heart instead of volumes.
Much gratitude to
All the Production, Creative and Brand teams for the unwavering trust.
AND my team that is always there!!
1:- Surf Ramzan 2020 – Neki Nahin Rukegi
Effie Gold Award in Season Marketing Category
Effie Gold Award in Sustained Growth Category
2:- Ariel Share The Load #workforhome
Effie Silver Award in Positive Change – Social Good
3:- Sunlight – "Itna Ziyada"
Bronze in Household Supplies & Services
4:- EFU "Humrahi Digital Web-Series"
Effie Silver in the Digital Content Category
5:- Lifebuoy Hathon Ki Hifazat – Pakistan Ki Hifazat
Effie Gold Topical Marketing Crisis Response
Effie Bronze in Peronal Care
Effie Bronze Positive Change – Social Good
What is Effie ?
Leading, Inspiring & Championing The Practice And Practitioners Of Marketing Effectiveness.
Effie Pakistan is a not-for-profit initiative between Pakistan Advertisers Society and Effie Worldwide. It stands for effectiveness in marketing communications, spotlighting marketing ideas that work and encouraging thoughtful dialogue about the drivers of marketing effectiveness.
The annual award is presented to recognize the the most significant achievement in marketing communications: ideas that work. It recognizes any and all forms of marketing communication that contribute to a brand's success. Any idea driven by any marketing communications medium or combination of mediums is eligible for an Effie, as long as the results are proven.
about effie worldwide
Effie Worldwide Inc.'s mission is to champion and improve the practice and practitioners of marketing effectiveness. Effie Worldwide is committed to inspiring and celebrating effective marketing and marketers globally.
Since 1968, winning an Effie has become a global symbol of achievement. Today, Effie recognizes effectiveness worldwide with 1 Global Effie, 5 regional programs and 52 national award programs.
our values
We stand for a consistent philosophy and a rigorous set of practices, built around the demonstrated ability of marketing communications to achieve marketing goals.
We are first and foremost an effectiveness award, based upon proven results in the market place. Creative execution is seen as part of the marketing communications process and is factored into the judgment for an Effie award.
Our programs bring about the sharing of learning about best practices in marketing communications effectiveness from all around the world.
A strong international network that run in the spirit of cooperation and mutual support aims to strengthen all Effie programs that collectively fulfil its mission.