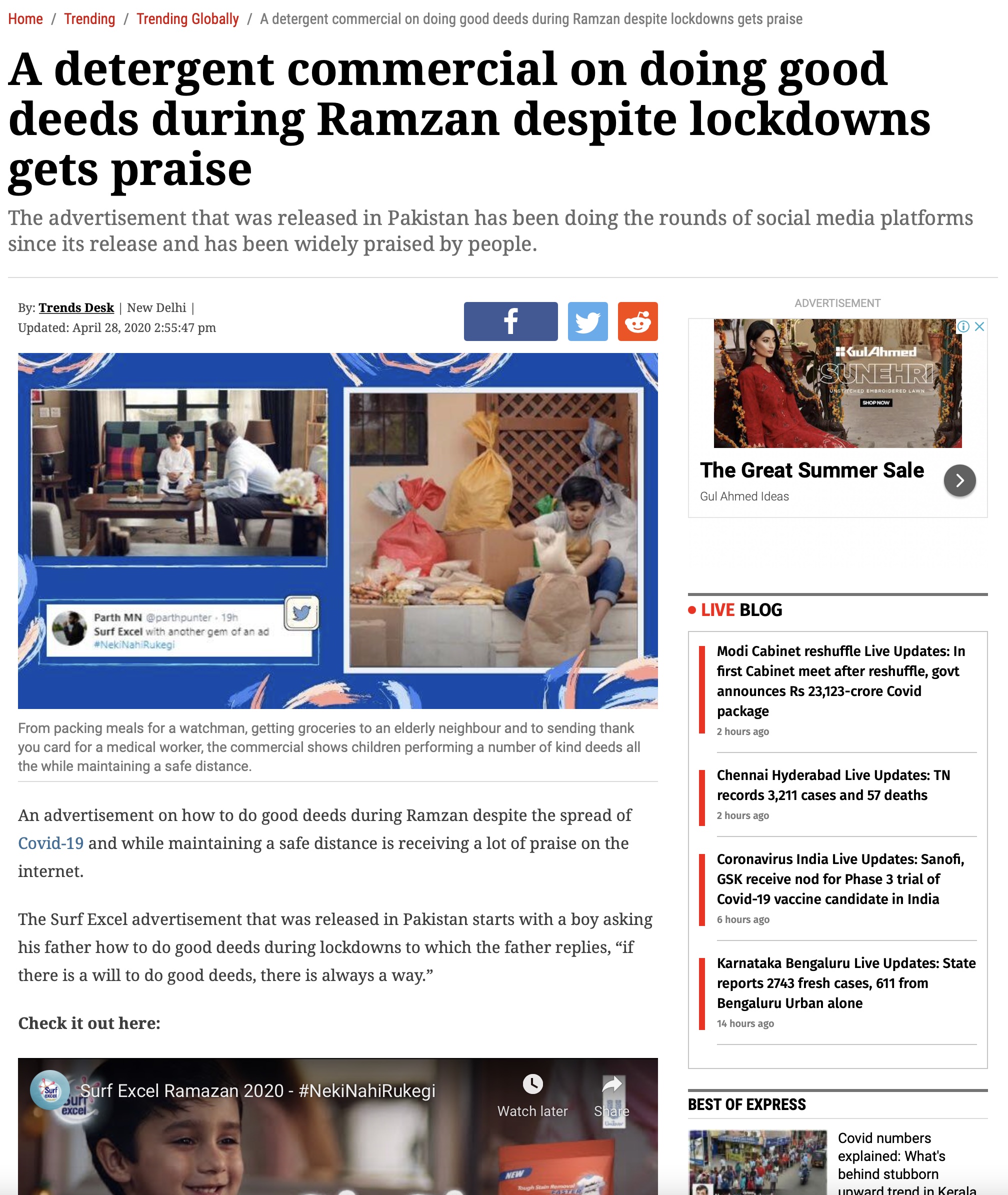 08 Jul

A detergent commercial on doing good deeds during Ramzan despite lockdowns gets praise

https://indianexpress.com/article/trending/trending-globally/surf-excel-ramadan-good-deeds-covid-19-coronavirus-lockdown-6382895/

An advertisement on how to do good deeds during Ramzan despite the spread of Covid-19 and while maintaining a safe distance is receiving a lot of praise on the internet.

The Surf Excel advertisement that was released in Pakistan starts with a boy asking his father how to do good deeds during lockdowns to which the father replies, "if there is a will to do good deeds, there is always a way."

The rest of the commercial shows how the boy, with other children, performing multiple acts of kindness while ensuring they were a distance from each other. From packing meals for a security guard to getting groceries for an elderly neighbour and sending a thank-you card to a medical worker, the children perform a number of kind deeds.

The advertisement has been doing the rounds of social media platforms since its release and has been widely praised. Take a look at some of the reactions here:

Makes me cry a river . This is so so beautiful ♥️
Surf Excel Ramazan 2020 – #NekiNahiRukegihttps://t.co/nsyby2uHLy via @YouTube

— Khushi R Srivastava (@khushi_rs) April 26, 2020

Muslims around the world are observing a relatively bleak month of Ramadan this year with many nations under lockdown to slow the spread of Covid-19.