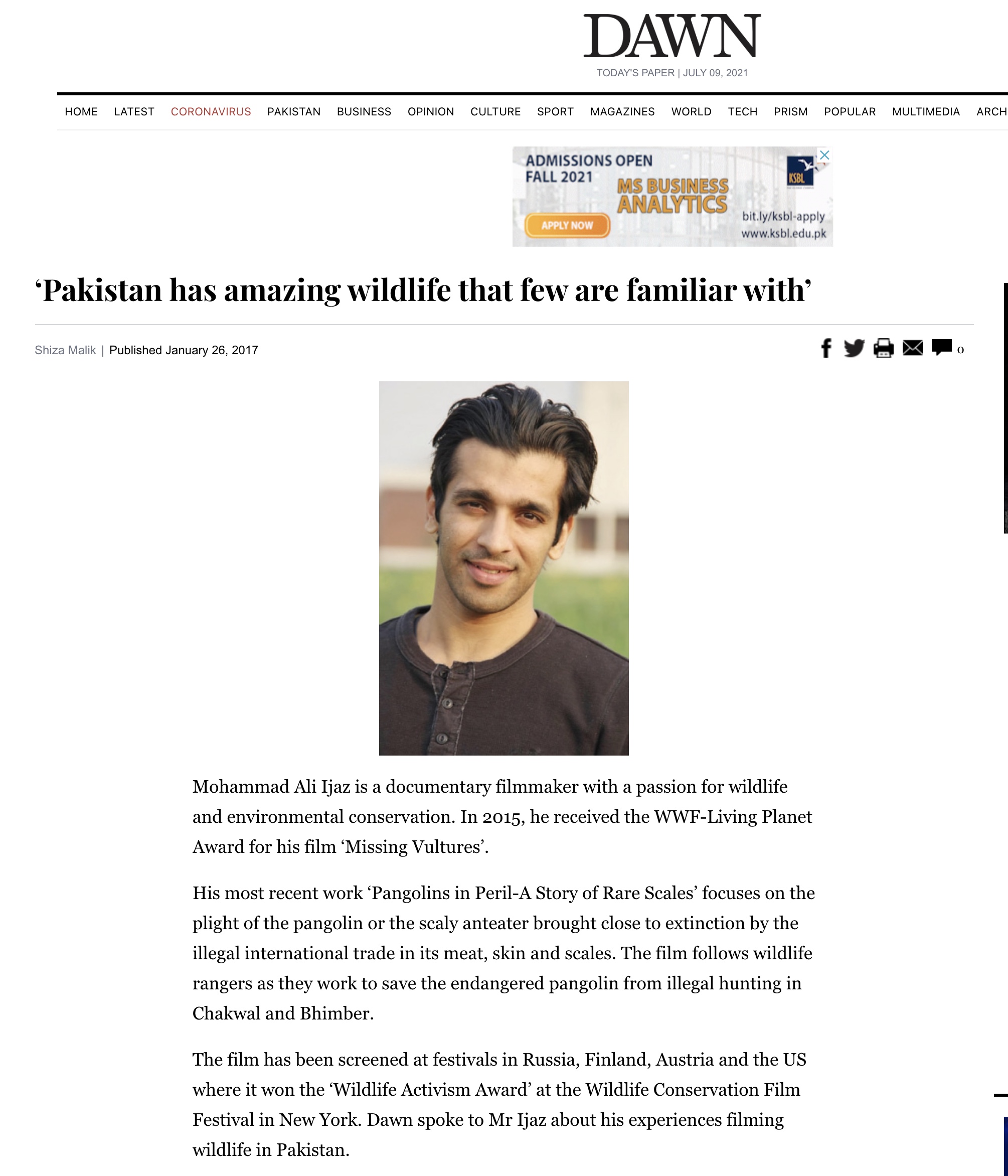 09 Jul

'Pakistan has amazing wildlife that few are familiar with'


Shiza Malik | Published January 26, 2017

https://www.dawn.com/news/1310754/pakistan-has-amazing-wildlife-that-few-are-familiar-with
Mohammad Ali Ijaz is a documentary filmmaker with a passion for wildlife and environmental conservation. In 2015, he received the WWF-Living Planet Award for his film 'Missing Vultures'.
His most recent work 'Pangolins in Peril-A Story of Rare Scales' focuses on the plight of the pangolin or the scaly anteater brought close to extinction by the illegal international trade in its meat, skin and scales. The film follows wildlife rangers as they work to save the endangered pangolin from illegal hunting in Chakwal and Bhimber.
The film has been screened at festivals in Russia, Finland, Austria and the US where it won the 'Wildlife Activism Award' at the Wildlife Conservation Film Festival in New York. Dawn spoke to Mr Ijaz about his experiences filming wildlife in Pakistan.
Q: How did you become interested in wildlife documentary filmmaking?
A: My interest in wildlife developed at an early age when my father, a veterinary doctor, was studying for his PhD at the University of Minnesota in the 1980's. Sometimes I would accompany him late at night in his lab, which housed a variety of animals.
Even as a six-year-old I was fascinated by the birds of prey, which could be seen through a huge glass window at the aviary on campus. My fascination with animals, especially large birds, grew with trips to the natural history museum in Minnesota and watching shows such as Wild America on television.
I also started borrowing books about wildlife from the local library. However, when I returned to Pakistan there were not enough books or television shows about wildlife.
I began reading research papers about local animals and soon realised that Pakistan has some amazing wildlife which few people are familiar with.
After finishing school I first enrolled in a veterinary medicine programme but dropped out after a year to join the National College of Arts (NCA) in Lahore to study filmmaking so I could document Pakistan's unique and fascinating wildlife.
Q: What is the level of interest and institutional support available in Pakistan for wildlife documentary films?
A: I think people in Pakistan are very interested in natural history films. Even in villages, the young and old alike are familiar with the National Geographic Channel. People are happy to learn about elephants and lions in Africa and even when they are unable to comprehend the narration in English, they are able to follow the visual storyline.
However, we are not producing enough local educational content for television about wildlife, nature, science, technology or culture.
Pakistan is full of inspirational stories and scientists, scholars and researchers doing great work, which people want to learn about. Unfortunately, most local television channels are only interested in quick profits, while producing quality educational content requires time, money and expertise.
This means that documentaries and other educational programmes remain under produced. Most of my wildlife documentaries generate greater interest abroad but that is because there are more opportunities outside Pakistan to screen my work.
We need more institutional support so that filmmakers can work on a variety of subjects which interest them.
Q: What role can wildlife documentary films play in supporting conservation efforts?
A: Documentaries can play a very important role in educating people about the wildlife which exists in Pakistan. Most people are unaware that less than 150 years ago, tigers and lions roamed the forests in this area and hunting with captive cheetahs was a common pastime among Nawabs.
There are even records of Emperor Babur hunting rhinos outside Peshawar in the 16th Century. But today we have destroyed our forests and hunted most local wildlife to the brink of extinction.
Documentary films can make people realise the threats faced by animals and generate interest in protecting the species which have managed to survive.
Vultures, for instance, were very common in Pakistan even 15 years ago.
Today they are almost all gone because of a variety of reasons, but mainly due to the use of a drug called Diclofenac on livestock. But few people know that vultures are endangered, neither do they realise the ecological impact of this loss.
Through my documentary I have attempted to draw attention to the importance of these animals on the environment and even culture.
The vulture has been used as a metaphor in many local language stories and with this animal, a part of our culture will be lost forever.
If nothing is done to inform people about their environment, we should not be surprised if people hunt animals or cut trees without realising the consequences.
Documentary films can help bridge this knowledge gap and even inspire a new generation of researchers and scientists.
Published in Dawn January 26th, 2017