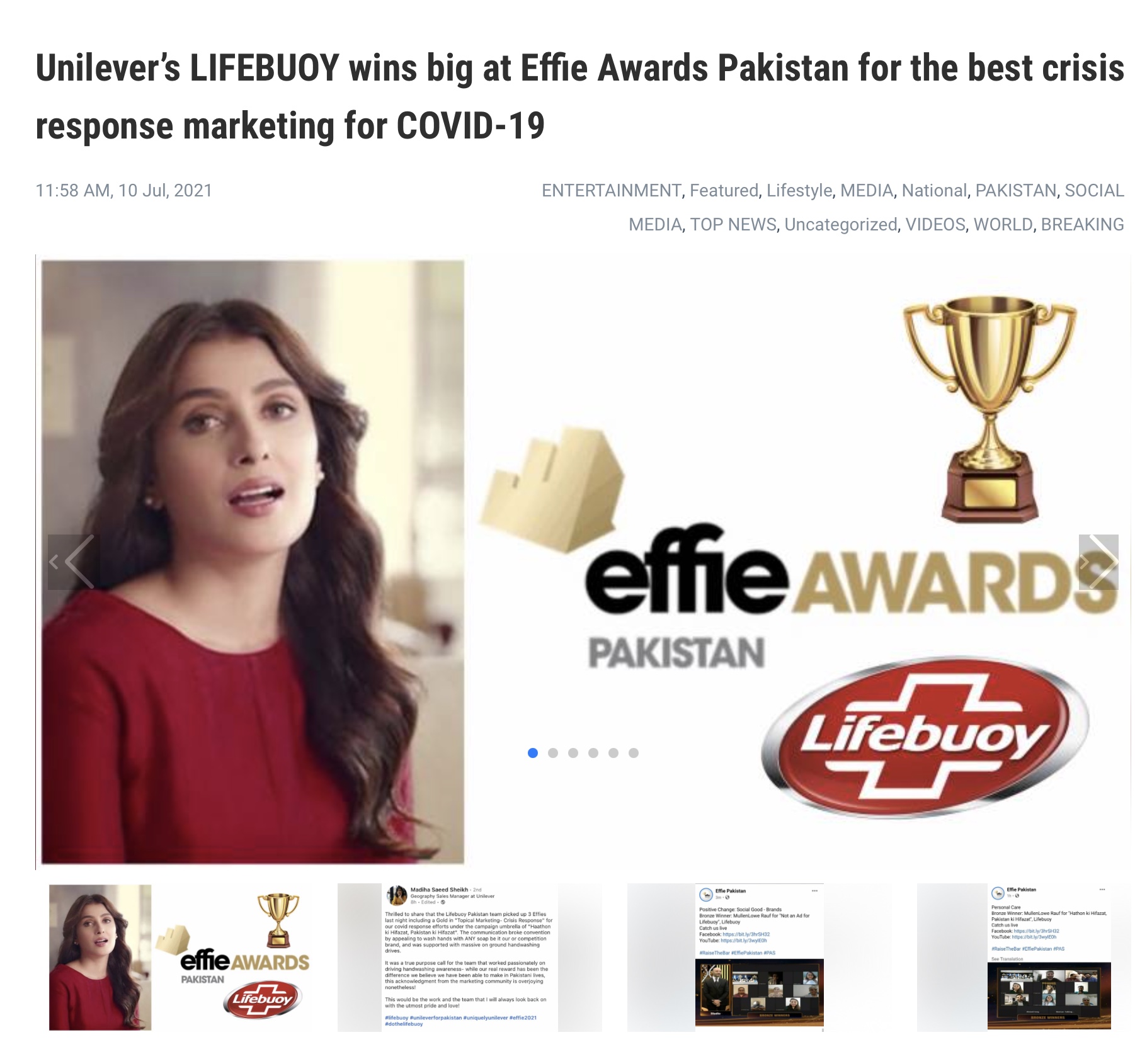 14 Jul

Unilever's LIFEBUOY wins big at Effie Awards Pakistan for the best crisis response marketing for COVID-19. Shot a Night before Complete Lockdown in Pakistan. Directed by Umair Nasir Ali

Unilever's LIFEBUOY wins big at Effie Awards Pakistan for the best crisis response marketing for COVID-19
Last night, the Lifebuoy Pakistan team won three Effie awards, including a Gold in "Topical Marketing- Crisis Response" for their coordinated response efforts under the "Haathon ki Hifazat, Pakistan ki Hifazat" campaign umbrella. The marketing defied convention by encouraging people to wash their hands with ANY soap, whether it was Lifebuoy or a competitor's product. This unique advertisement was backed up with big on ground hand-washing drives.
Madiha Saeed Sheikh, Geography Sales Manager at Unilever, took to her LinkedIn account to announce Lifebuoy's triumph. She went on to say that while their actual incentive was to positively influence Pakistani lives, this recognition from the marketing sector is nevertheless overjoying.
Sheikh further added "This would be the work and the team that I will always look back on with the utmost pride and love!"
Lifebuoy, a Unilever soap brand, has been attempting to raise hygiene awareness in the face of COVID-19. To raise consumer awareness, what began as a print public service announcement, expanded to include TV commercials and digital marketing. The ads focused on the ways to prevent contracting the novel coronavirus that causes COVID-19.
Throughout its communication, the brand refrained from a sales call to action in the classic sense. It maintained that any soap will suffice as long as hands are adequately washed. Lifebuoy even mentioned some of its competitors in the content of its first print ad, emphasising that the ad was not intended to promote sales or brand awareness, but rather to raise awareness regarding the importance of washing hands and hygiene, in these testing times.
About the Effie Awards: Recognising and rewarding innovative ideas.
Advertisers and agencies throughout the world see the Effie Awards as the industry's preeminent accolade, honouring any and all types of marketing that contribute to a brand's success. Winning an Effie has been a global icon of excellence for more than 50 years. Effienow has over 50 programmes around the world, including the Global Effies, regional Effieprogrammes in Asia-Pacific, Europe, the Middle East/North Africa, and Latin America, as well as national Effie programmes.
– By Sayeeda Aleeshah Abbas