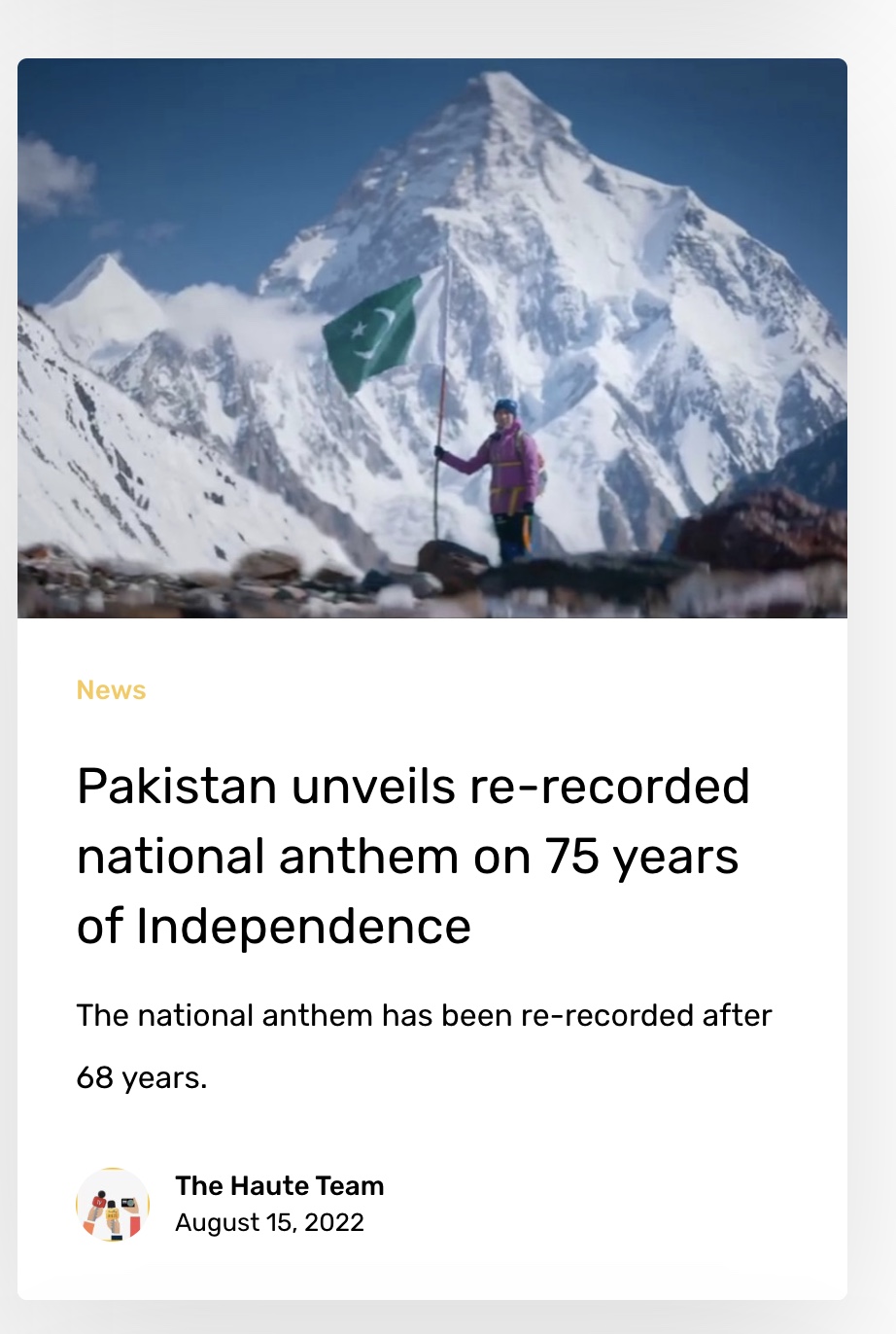 20 Aug

Pakistan unveils re-recorded national anthem on 75 years of Independence
The Haute Team August 15, 20222 min read
Prime Minister Shehbaz Sharif officially unveiled the newly re-recorded national anthem of Pakistan on the nation's 75th Independence Day.
The national anthem has been re-recorded after 68 years, with the participation of 155 singers, 48 musicians and 6 bandmasters, using modern technology.
The newly recorded version doesn't wander away from the original's purity and softness, but it rather plays on its strengths. The original music score by Ahmad G. Chagla combined with beautiful poetry by Hafeez Jalandhari is only refined by using a new set of chorus and bandmasters, just to keep up with modern times.
However, the highlight of the relaunched national anthem is its video which features Pakistanis from all ethnicities, religions, cultures, classes, ages groups and professional backgrounds. The visuals represents Pakistan, a nation that respects inclusivity and stands for harmony. The brass bands of all three armed forces also participated in this national effort. The new version also shows beautiful imagery encompassing cultural and regional colours of Pakistan.
The anthem's video shows diversity as Pakistanis from all regions, from the valleys and coal mines to the sea and deserts can be seen, including KPK, Balochistan, Thar, Kalasha, and Gilgit Baltistan. It reflects women empowerment, our development and prosperity over the years as a peaceful nation with broad-minded people who love their country.
The project has been completed in collaboration with various departments, including the Ministry of Information and Broadcasting and ISPR. It is produced by Num Films for National Anthem Steering Committee constituted by the Federal Cabinet.
Watch the new national anthem here:
14 AugustNational AnthemPakistan
This article is written by one of our competent team members.