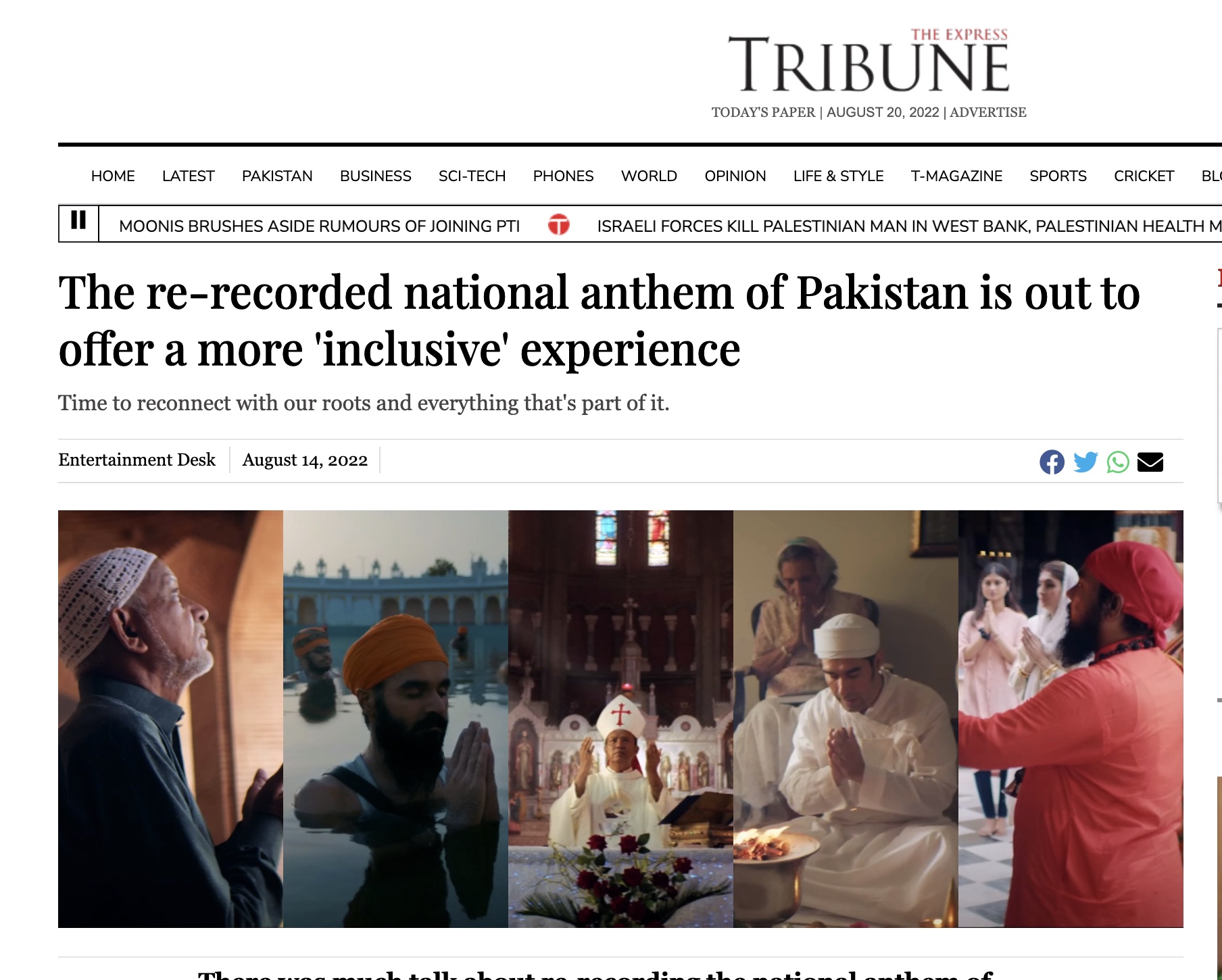 20 Aug

The re-recorded national anthem of Pakistan is out to offer a more 'inclusive' experience
Time to reconnect with our roots and everything that's part of it.
https://tribune.com.pk/story/2371141/the-re-recorded-national-anthem-of-pakistan-is-out-to-offer-a-more-inclusive-experience
Courtesy: Express Tribune
---
Entertainment Desk August 14, 2022

---
There was much talk about re-recording the national anthem of Pakistan to offer a more "inclusive" experience and now that the version is out, one must revisit the chorale to replenish hope lost and the Pakistani philosophy abandoned. The re-recorded version focuses on representation of all identities that form the nation. It takes into account the many cultures, languages and traditions that made their way to and settled in Pakistan as it gained independence in 1947.
Musicians from all over the country with diverse regional, cultural and ethnic backgrounds gathered to sing this qoumi taraana that has been released to mark 75 years of Azaadi by the government of Pakistan. The diverse singers include Balochistan's Abid Brohi, Punjab's Arif Lohar, Sindh's Taj Mastani, KPK's Sehar Gul Khan, Gilgit Baltistan's Sidra Kanwal, Kalash's Amrina among others. Some of the renowned vocalists singing the re-recorded anthem include Abdullah Qureshi, Bilal Saeed, Fakhir Mehmood, Humaira Javed, Taj Mastani and Umair Jaswal.
Fashioning hope for a more tolerant Pakistan, the anthem represents an equal number of men and women. The re-recorded version, albeit, utilizes the original recital and score to minimize risk and preserve sanctity, so the national anthem continues to resonate with Pakistanis all over the world.
The video takes the viewer across Pakistan, flaunting its varying landscapes and communities. From the mountain peaks to the rivers and seas, it pushes the envelope to create an enriched experience for those unaware of the diversity their own country has to offer. It goes on to respectfully showcase all religions and occupations the country boasts.
The official Instagram page for the anthem also introduces the singers behind the re-recording via a video that sees them speak about where they come from and how they became the voice of the nation. Some of them even sing their favourite national songs behind the scenes.
Earlier, Prime Minister Shehbaz Sharif had promised to launch the re-recorded national anthem on Pakistan's 75th Independence Day. In honour of the occasion, his committee had vowed to enlist vocalists from diverse regional, cultural and ethnic backgrounds, from all religious faiths and musical genres. He is the second elected PM after Liaquat Ali Khan to have this unique honour. The national anthem has been re-recorded after 68 years, with the participation of 155 singers, 48 musicians and 6 bandmasters.